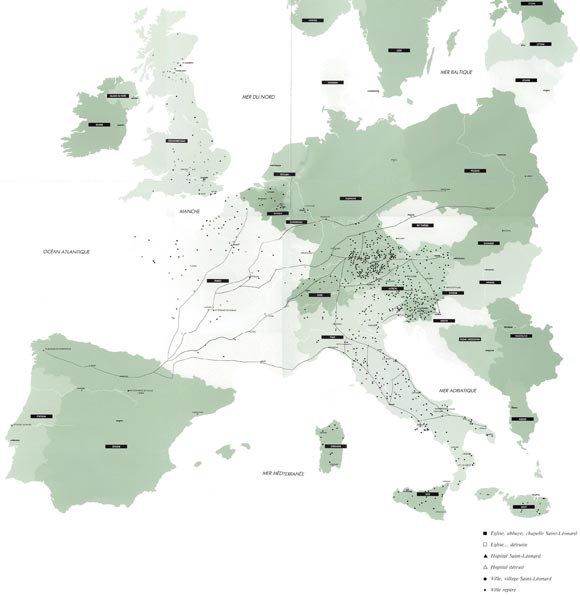 (Map copyrighted to and information of the article given by : Connaissance et sauvegarde de Saint Léonard)
EXPANSION OF THE CULT OF SAINT LEONARD IN EUROPE AND THROUGHOUT THE WORLD
Since the publication of « Vita », foundations have multiplied throughout Europe. Bishops, Benedictan or Cistercian monks, pilgrims –famous or not, pilgrims en route to Santiago de Compostella or simply to Saint Léonard were at the origin of the many chapels, churches and hospitals dedicated to Saint Leonard as Patron Saint of prisoners. More than 1000 places of worship dedicated to Saint Leonard have been identified in 18 European countries.
ITALY with more than 225 places of worship is at the head of the list. From the town of Bressanone in the north to the island of Sicily in the south, the parishes of Saint Leonard are found along thegreat pilgrimage routes in both easterly and westerly directions. The Normans are at the origin of certain foundations, like San Leonardo di Siponto. Saint Leonard is one of the four saints who protect the city of Venice. Traces of the cult of Saint Leonard have also been found on the island of Sardinia.
GERMANY In Bavaria there is a concentration of more than 200 parishes dedicated to Saint Leonard around a significant centre ; the city of Inchenhoffen. The Bishop of Naumbourg, Waleran de Bamberg, reissued the « Vita » and diffused it throughout his lands. The first foundations then came into being : Erlach (1150), Kreuth (1184), Leonberg (1202).
THE UNITED KINGDOM From Scotland in the north to Saint Leonard of Stamford (1082) in the south of England as well as the town of Norwich (1095), there are more than 180 foundations which are mainly hospitals for pilgrims. Strangely none are to be found in the west of the U.K.
IRELAND There are no parishes dedicated to Saint Leonard
AUSTRIA The cult of Saint Leonard is to be found in more than 100 parishes. The oldest is at Kundl and dates from 1020. As in Bavaria, many of these Austrian churches are surrounded by fences of chains, which is also the case in SLOVENIA. The chains signify a wish or a collective request for grace and are often made from melting down ex-voto offerings in iron, brought to these sanctuaries.
SLOVENIA Despite its size Slovenia has over 60 places of worship
MALTA The island of Malta has 12 churches including Kirkop (the crypt of Saint Agatha)
SPAIN Churches in Zamora and San Leonardo de Storia
HUNGARY, SWEDEN , CROATIA , and PORTUGAL also have traces of the cult of Saint Leonard
POLAND There are several places of worship, principal among which, is the chapel to Saint Leonard in the Cathedral of Krakow.
SWITZERLAND There are churches in Basle, Landschlacht and Saint Léonard du Valais.
BELGIUM Parishes in Zouteeuw, Sint-Leneert and Zuidschote
NETHERLANDS A parish at Beek-en-Donk
There are also parishes on the other side of the Atlantic
In addition to all of these foundations, dedicated to Saint Leonard, there are thousands of works of art of all sorts. An inventory of these is in progress.
This information has been taken from the booklet published by Connaissance et Sauvegarde de Saint Léonard and the Confraternity of Saint Leonard, entitled « Saint Léonard du Limousin », which is available with translations in German, English and Italian.
________________________
Welcome space for parishes & place of worship dedicated to saint Leonard, & their traditions >