The term « Ostension » comes from the Latin ostendere, ostensum, meaning « a showing ».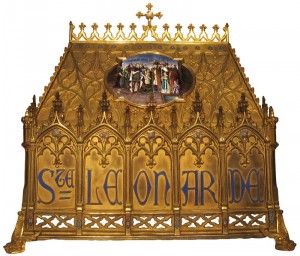 In Catholic liturgy it designates the presentation of the relics of saints for the veneration of the faithful.
It is an important religious and popuar festival which has taken place in Saint- Léonard-de-Noblat ever since the « Miracle des ardents » (The miracle of curing the malady of the fevered) in 1094.
Every seven years, the « Miauletous »—the inhabitants of Saint Léonard— decorate their town with thousands of multicoloured flowers and participate in the procession.
They welcome enthusiastically the many visitors and foreign delegations representing the parishes and places of worship where Saint Leonard is venerated. (more than 1000 in Europe)
________________________