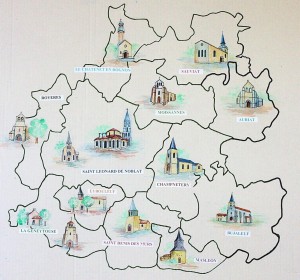 (card created by Mme Bureau)
________________________
The parish of Saint Leonard en Limousin was founded in 1988 as a result of a decision taken by the Diocesan Synod. The parish is made up of 12 villages which are : Saint-Léonard-de-Noblat, Royéres, Le Chatenet en Dognon, Sauviat sur Vige, Moissanes, Champnétery, Bujaleuf, Masléon, Saint Denis de Murs, Eybouleuf, La Geneytouse, and Auriat.There is a pastoral team which is responsible for providing service to this parish : Father Raymond Thomas, who is the Parish Priest, Olivier Tandeau de Marsac, the permanent Deacon, Marie Thérèse Gabert and Marie Thérèse Kergroach. This pastoral team is assisted by a parochial council and a finance committee. There are a variety of services provided by the parish : catachism, chaplaincy for the college and the lycée, chaplaincy for the hospital, the Christian Movement for Retirees (MCR), and the Confraternity of Saint Leonard. There are prayer groups,a baptismal team, and three liturgical teams etc. To facilitate communication a brochure has been prepared and placed in each church of the extended parish, to provide the essential information to those who require it.
A parochial centre hes been created at 8, rue de Strasbourg, to provide a place where parish activities can take place. A welcoming team and secretariat is based there. The parish priest lives just beside this Parochial Centre, and can be reached on the following 'phone number : 05 55 56 31 37 . Each church of the extended parish has maintained its own identity and each time there is a possibility, ceremonies take place in these churches : (masses, baptisms, weddings and funerals). Each of these churches has its own Patron Saint, as follows :-
– SAINT LEONARD DE NOBLAT Saint Léonard –Confessor
– SAUVIAT SUR VIGE Saint Martin– Bishop
– LE CHATENET EN DIGNON The Nativity of Our Lady
– MOISSANES Saint Maurice—Martyr
– CHAMPNETERY Saints Peter and Paul
– BUJALEUF Ordination of Saint Martin
–MASLEON The Assumption of Our Lady
– SAINT DENIS DES MURS Saint Dennis —Bishop and Martyr
– LA GENETOUSE The Assumption of Our Lady
– EYBOULEUF Saint Peter in Chains
– ROYERES Saint Thomas a Becket
– AURIAT Saint Peter in Chains
These saints are examples and witnesses. They are those who have lived according to the Gospel and who encourage us, in our turn, to do the same.
May the Parish of Saint Leonard en Limousin be a place for proclaiming the Gospel so that each person can live humbly and modestly for the greater good of all.