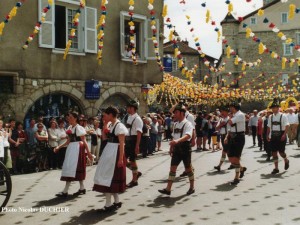 The special elements of the Ostensions of Saint Leonard, by comparison with those of other Limousin towns, is the important participation of delegations from parishes and places of worship dedicated to Saint L eonard coming from other parts of France and from other countries.
[in 2002 there were 15 delegations of which 13 were foreign delegations].
Among the objectives of the Ostension organisers in 2009, is one which is particularly important :- that is to create a link between all the parishes and places of worship dedicated to Saint Leonard, throughout the World and to maintain this link between the ostension periods.
The first action in this sense is to create a contact space on Internet where all parishes and places of worship, dedicated to Saint Leonard can be included and can share their traditions.
We hope that this link will help to contribute to bringing all those who share the cult of Saint Leonard, together.
(picture : Nicolas Duchier)
________________________
<History & pictures of the Ostensions of Saint Leonard | The organisation of the ostensions >