The Ostensions of Saint Leonard are as old as those of Limoges. The « translation » i.e. moving of the relics, have been chronicled regularly between the years 882 and 1010, both at Limoges and at Saint Jean d'Angély. In 1094, during another epidemic of the « Mal des Ardents » (malady of the fevered) the relics of Saint Leonard, carried in procesion to the hill of Champmain, brought relief and cure to the sick.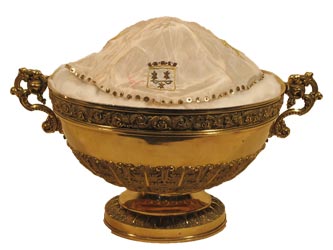 Hidden in the 12th century in the crypt of the Collegiate Church, the relics were not rediscovered until 1403. A few weeks later, the Bishop of Limoges, the joint Lord of Saint Léonard-de-Noblat, came to the Collegiate Church and placed the skull of Saint Leonard in a silver-gilt reliquary casket, in the presence of a huge crowd of people.
This ceremony marked the start of a long series of Ostensions. By 1561 the Ostensions had fallen into the rhythm of being held every seven years and this was not interrupted until 1589 due to the insecurity which existed in the country at that time. The Ostensions were also interrupted in 1799 due to the French Revolution. Certain Ostensions were more important, as in 1596, where the priests of all the parishes of Limoges, participated in the procession. In 1619 an exceptional Ostension took place in honour of the Prince of Condé, who had recently been freed from imprisonment. The Bishop held the key to the relics and closed the Ostension by a procession though the town and gave his benediction to the people from the cross on the hill of Champmain.
At the end of the 19th century, the municipal authorities of Limoges, acting as guarantor of the public domain, took a decision which forbade religious processions in the streets, thus limiting the Ostensions to the interior of religious buildings. It was only in 1953 when Saint-Léonard-de-Noblat was able to fully celebrate the Ostensions again.
The Ostensions are organised today by a committee which includes the Parish, the Town Hall and the Confraternity. They have taken on a European dimension, which mirrors the expansion of the cult of Saint Leonard throughout Europe.
________________________
<The programme of the Ostensions | The special elements of the Ostensions of Saint Leonard >
_______________________
Bibliography :
About the Ostensions :